Lookin' good. That's one of the reasons why we dress up, decisively match the colours and pick the right design detail. Looking good = feel good. A very simple equation. At Ark Industries, we offer different solutions for looking good in a corporate or event setting. We have the polo tees, the jackets, the jerseys and the t-shirts. We also offer a range of embellishment methods besides the well-known silk screen printing method! As it is one duty of ours to make you feel good, we will deep dive and share with you on how to look make good looking custom tshirts!
Consider Vinyl and Digital Printing (Heat Press Method)
For a corporate tee, there will always be your logo. Your branding. So for a t-shirt it is always a great idea to go with vinyl or digital printing. You can read our in-depth article about vinyl and digital printing here.
Basically, those 2 methods are the main heat press vinyl materials that are perfect for low quantity orders. So even if you need 1 piece of t-shirt first, maybe because you want to have a initial feel, you can try either vinyl prints or the colour-friendly digital print.
Embroidery on a T-shirt
For an unusual suggestion from us, you can try embroidery on a t-shirt. It is a little uncommon for T-shirts to be embroidered because it seems like it's only suitable for polos but if you think about it, there is no such rule.

So be a game changer and try your embroidered brand on a t-shirt. It is unconventional, outstanding and elegant. Something that your brand might need.
Sublimation Printing Method
Now what if there's no silkscreen printing services in Singapore that could meet your even more intricate and complex detailed artwork? Well the best solution here would be Sublimation Printing. Here's a link for an in-depth explanation of what Sublimation Printing is here.
So the beautiful thing with Sublimation Printing is that aside from being able to print complicated design details that any silk screen printing services in Singapore couldn't handle, it could do overall prints that are totally unique for the same price no matter how much colour it takes.
But if you read our article in Sublimation Printing, you saw there that this is only applicable to polyester materials.
Now, what if you want it in cotton instead? Well, this leaves you with the only option of fully-customised round neck tee. So the thing with this is you can mix and match colours, materials and have special measurements like if you want to have those oversized crew neck tees that are popular right now. Plus for the design, you can choose from either heat press, embroidery or silk screen printing. You can use whichever you think is best! 
Silk Screen Printing Method
How about silk screen printing? Yes, the longest-running printing method in the biz. Now, what makes this awesome is – it gets a lot cheaper the more you order. Well that's particularly true for any printing methods as a matter of fact but this takes the cake for being even a lot cheaper. But there are some silk screen printing disasters that usually occur if you are new to it. You can check out our article on how to choose reliable silkscreen printing services in Singapore, especially if it's your first time.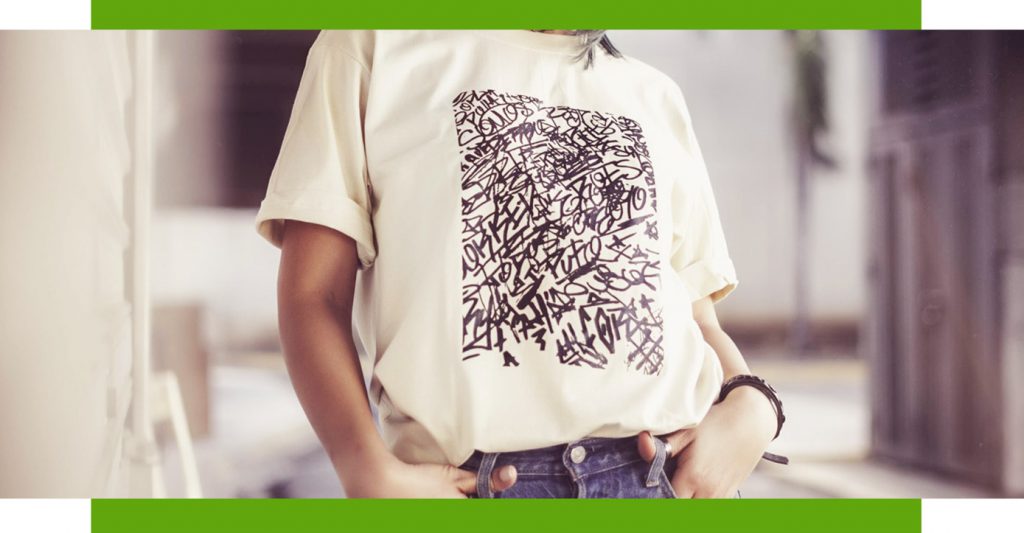 So, how can you make your t-shirts look even better with silkscreen printing? Intricate and complex details! Having your tiny logo somewhere in the t-shirt is good but having a cool looking design and patterns is a lot better.
A Good Looking Tshirt Goes A Long Way!
Want to successfully catch people's attention? This is it! If you are wondering what kind of design should you do, you can have a consultation with Ark's Design Department for great ideas!
So one thing that you have to keep in mind if you go for full customisation is it's going to be pricey. But if you have the budget or maybe you just want to have an idea, have a chat with us! We would gladly help you with your queries.
So we hope that this list made you feel good about knowing how to make your t-shirts look good. Do explore our website, message us via the form below or chat with us via Whatsapp if you'd like to know more.