High Quality at Ark Industries
Ark Industries is a local company founded in 2005. Our embroidery is done by our production team in Singapore, and carefully supervised by an experienced team of designers, digitalizers and quality control managers. This means that you enjoy the highest quality at quick turnaround time.
We are also constantly innovating and experimenting with new embroidery techniques. We take pride as being one of the forefronters in quality and innovation in embroidery. We use highly specialised embroidery machines from renowned makers in Japan, Barudan and Tajima. For threads, we use high quality thread from international supplier, Madeira, thus ensuring that the colours of the embroidery will remain vibrant even after multiple washes.

Our experienced production team at Ark Industries has developed a keen eye for details and a wealth of knowledge to provide the best embroidery service for our customers.

Choose non-branded or branded apparel for your logos or artwork to be embroidered on!
Available brands include adidas, Under Armour, Puma and Yupoong Flexfit.
✓ T-shirts and Polo Tees
✓ Jerseys and Shorts
✓ Button Shirts
✓ Jackets and Windbreakers
✓ Hoodies
✓ Caps
✓ Bags
✓ Towels

Embroidery is highly durable and looks professional on any apparel.
The visual results of each embroidery depends on a number of factors such as:
• Fabric of apparel
• Size of the logo embroidery
• Details of the logo embroidery (small text, thin lines, complicated shapes)
• The way the logo is digitised for embroidery
• Craftsmanship and knowledge in working with embroidery machine and equipment
Embroidery of logos on apparel creates a higher perceived value of both the apparel and the brand that it represents.
It is lasting, durable, and creates the right kind of impression for your company/ team.
Easy Order Process at Ark Industries
Choose your preferred apparel item. Depending on your logo/artwork, our Sales Managers will present you with recommended embellishment options.
Step 2: Confirm Visual and Quote
Our design team will create a visual mockup (logos/artwork on apparel) for your approval before sampling begins. Endorsement of the quote is required to proceed to the next step.
The sample process differs from order to order . Typically, a sample will be shown to our clients for approval before bulk production commences.
Step 4: Production Commences
Once the Pre-Production Sample (PPS) is approved by you & admin processes are complete, bulk production will commence. Orders will be checked & packed by our Quality Control team before the goods are ready for delivery or self-collection.
Embroidery Process Overview
Step 1: Logo/Artwork Preparation (Digitising)
As part of our embroidery service, we will review your artwork or logo to determine if some lines or shapes have to be enlarged or thickened in order for it be translated well unto the apparel.
Our team will then digitise the logo to plan out the stitches to allow the embroidery machine to create the embroidery.
There are a number of stitch types, such as the full stitch, satin stitch and running stitch. Our digitiser will select the most suitable stitch type for the logo/artwork at this stage.

*A digitising set-up fee may apply.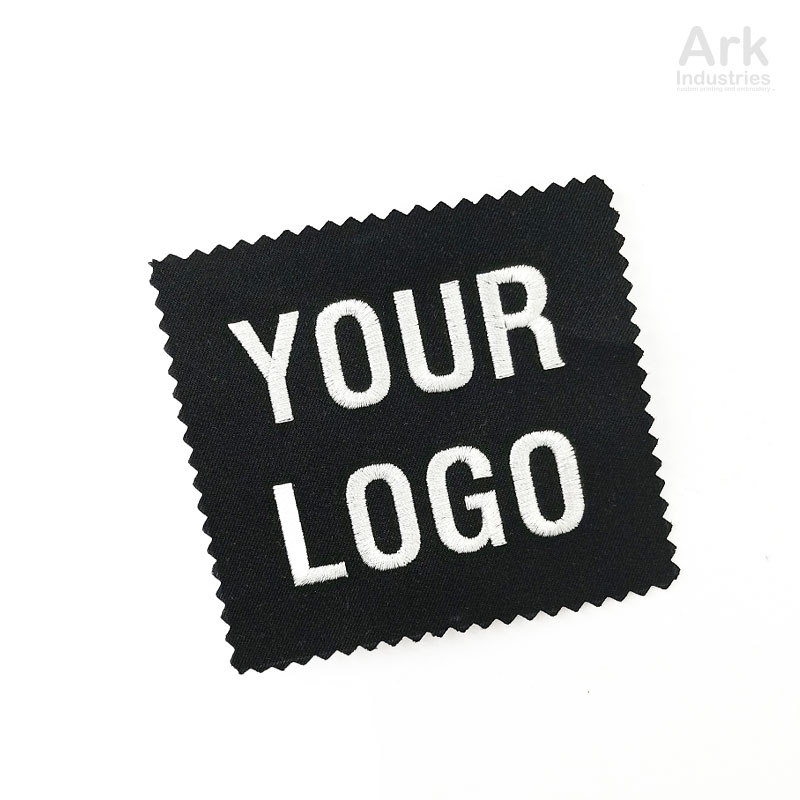 Step 2: Embroidery Sampling
Once the digitising file is ready, we will run it first to create an embroidery sample to ensure the logo or artwork is translated nicely. At the sampling stage, our team will ensure that the stitches are suitable for the fabric type of the apparel.
Different fabrics with varying properties such as elasticity and stiffness, will affect the look of the embroidery. Colours of the thread can be changed to match it accurately to the original logo or artwork reference.
For small text and graphic elements, stitches have be tweaked in the digitising software further and a cut piece embroidery sample will need to be made again to ensure that the embroidery is neatly done.
Step 3: Bulk Embroidery Begins
Once the sample has been shown and approved by the customer, we will run the embroidery machines to create the final embellished apparel. Our QC Department will check each finished product to ensure that it is up to our stringent standards.
Direct embroidery is a process of sewing the design or logo directly into the material of the garment or other fabric materials. Direct embroidery is commonly used on garments or fabrics such as polo tees, hoodies, t-shirts and uniforms. We can even use direct embroidery on items like leather golf bags and footballs! The versatility of direct embroidery is endless, and you can have a wide range of colors in one embroidery.
Direct embroidery is cost effective, and hence one of the most popular and preferred embroidery methods of companies and sports team everywhere.
3D Embroidery is a technique where stitches are thickened and raised, giving a three-dimensional look to the embroidery designs or logos. 3D embroidery is commonly used on garments or fabrics that do not require much washing such as caps, jackets and outerwear.
3D embroidery is the latest development in embroidery techniques and not common in the market. If you would like to have something outstanding and different, 3D embroidery is definitely the way to go.
Applique stitch embroidery refers to a needlework technique in which patterns are created through attaching smaller pieces of fabric to a larger piece of contrasting fabric. This technique works well for big embroideries and wordings, giving it a natural outlook. This technique can be used for uniforms, baseball jerseys etc.
An embroidered badge is a piece of embroidery work created by using a fabric backing and thread. Customers select badge embroidery to avoid sewing threads at the back of the fabric. Embroidery badges can be attached with a pin, sewn on, iron-on or heat-activated adhesive. Embroidery badges are commonly used by uniformed organisations, sports teams and individual enthusiasts.
High Quality Embroidery Thread
Madeira Polyneon
We use Madeira's Polyneon thread for our embroideries.

It is a 100% polyester filament thread that is durable, resistant to sun light, abrasion and many chemicals.

Color remains vibrant even after many washes, due to it's high colour-fastness.
Madeira Polyneon Green
Sustainability is the way to go.
Madeira's Polyneon Green is 100% recycled polyester thread made from post-consumer PET bottles. It retains the same high-quality of the Madeira Polyneon thread.
Clients can opt for us to use this thread for embroideries. Colors subject to availability.
Some Frequently Asked Questions about Embroidery
IS THERE A MINIMUM ORDER QUANTITY?
No, there is no minimum order quantity. Clients get to enjoy a bulk order quantity discount.
HOW LONG IS THE TURNAROUND TIME?
A typical turnaround time for a bulk quantity is 5-7 working days. Turnaround time varies for different order requirements.
WHAT ARE THE EMBROIDERY POSITIONS?
Choose to embroider on various positions. Typically for embroidery on a polo tshirt, embroidery can be done on the left or right chest, collar, sleeves and upper back.
CAN I EMBROIDER INDIVIDUAL NAMES?
Yes, you can. Please provide a list of names and their respective shirt sizes. Our Sales Managers will be able to provide a quote.
is there a sample before bulk production?
Our designers will create a mockup of the logos or artwork on a photo of the apparel item. This layout will have to be approved by our client before a sample is produced. Thereafter, an embroidery cut piece sample will be produced before the mass production begins.
For small quantity orders, an actual sample may not be provided.
ARE YOU ABLE TO RUSH ORDERS?

For urgent orders, we will do our best and make arrangements to help our clients meet deadlines.
WHAT ARE THE PAYMENT METHODS?
You can choose to pay using Cash, Bank Transfer, PayNow, Cheque, Credit Card (3% fee applies).
HOW MUCH DOES DELIVERY COST?
Delivery is free for orders with total invoice amount of S$1070 and above. Our Sales Managers will advise you if additional fee is required.
Ark Industries: #1 Custom Embroidery Service Provider in Singapore
Complete Customisation
Our dedicated in-house design team allows us to create completely customised designs. We work in close collaboration with our clients, combining a strong sense of aesthetics with technical know-how to turn their ideas into reality.
Uncompromising Quality
With 30 years of combined experience we have gained valuable insight into the needs of our customers. We pride ourselves on our ability to handle quick turnarounds or unique requests, providing a service that is always friendly, responsive and highly personalised.
Ark Industries Products
At Ark Industries, we create eye-catching branded clothing and apparel, applying your designs to your item of choice. Taking the particular material into consideration, we provide guidance on the application method, from Digital Heat Transfer, Vinyl Transfer and Silkscreen printing to Embroidery. 
"Definitely the only place to go to for customised apparel and printing. I've been going to Ark for years and they have always delivered top quality work. I regularly have triathlon apparel that requires special handling and the team at Ark never disappoint. The staff are friendly and attentive, product quality is excellent and projects are always completed ahead of time.'
"Even though it's just a t-shirt, I would like it to look professional n yet comfortable as we will be working under the hot sun most of the times. Alicia answered my enquiry. She is very patient and accommodating. It has been a pleasant experience working with Alicia from the start. Couple of years later, this year, I ordered for a second time round. The product Alicia introduced just got better. The embroidery work makes it perfect."
"Everything went smoothly as planned! Serene was very helpful and patient with my orders and requirements! Will definitely return to ark industries again for future works!"
Find Out More About Our Embroidery Services
Fill the form below to request a call, email or Whatsapp from our Sales Managers who will be able to provide more details.